Tirana Private Walking Half Day Tour

No Reviews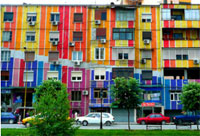 Take a relaxing walk to discover the major monuments of Tirana, Albania's capital city.
Duration: 3 hours
Location: Tirana
Itinerary
Pricing
Tour Reviews
The best of old and new Tirana


The best of old and new Tirana have been combined with a journey into the history of Albania. After meeting with the guide in front of the National Museum we will be introduced for a quick history of Albania. After the visit we walk through the centre where we will visit the Mosque and the Clock-Tower and the remains of the Castle of Tirana.


Around Tirana


Afterwards we walk to the Pyramid (mausoleum of the late communist leader Enver Hoxha, designed by his daughter). Just before entering the area known as Blloku (literally the Block) we'll observe the memorial with three objects representing terror, paranoia and isolation, as instruments of dictatorship. You will end the tour at Enver Hoxha house in Blloku. After the visit you might have lunch in a restaurant suggested by the guide (optional).