Tirana & Mount Dajti

No Reviews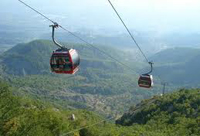 Explore the culture and nature of Tirana, the Albanian capital city.
Duration: One day
Location: Tirana and Dajti Mountain
Book Now
Tour Itenerary in Google Map
Tirana and Mount Dajti Tour
Share this tour
Itinerary
Pricing
Tour Reviews
Walking in Tirana


After meeting with the guide in front of the National Museum we will be introduced for a quick History of Albania. After the visit we walk through the Et'hem Bey mosque, where we visit the mosque and the clock-tower. For those interested in Art, the National Art Gallery of Albania has a fund of over 4,000 works of art by Albanian and foreign authors, spanning seven centuries of Albanian cultural heritage. Of interest here are the paintings from the realist socialism period where art was one of the tools used as propaganda by the regime.


The cable car to Dajti


Then we proceed to the Dajti Mountain. With the cable car offering a breathtaking panoramic view of Tirana we will enjoy a traditional restaurant surrounded by the flora and fauna. After lunch and time to relax we will be back in Tirana. Proceed with the Pyramid (mausoleum of the late communist leader Enver Hoxha, designed by his daughter). Just before entering "Blloku" area (literally the Block) we'll observe the memorial with 3 objects representing terror, paranoia and isolation, as instruments of dictatorship. As an addition to this we see also the former Enver Hoxha's house in Bllok. We end the tour with a refreshment in the Sky Bar a 360 degree platform on the 20th floor of a building where the whole panorama of the city can be admired.